Verbatim LED MR16 GU5.3
This product is no longer available
Product Number: 52026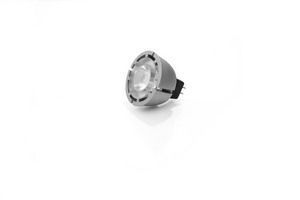 GU5.3 Socket
12 AC/DCV
35,000 hours Lifetime
Dimmable
70% Energy Saving
Luminous Flux: 275 lm
Equivalent to 20W incandescent bulb
GU5.3
275lm
6.5W
= 20W Incandescent Replacement
Cool White 4200K
| | |
| --- | --- |
| Product Number | 52026 |
| General Data | |
| Lamp Socket | GU5.3 |
| Design | |
| Power supply | |
| Fitting | |
| Installation type | |
| Electric Data | |
| Wattage (W) | 6.5 |
| Wattage Equivalent (W) | 20 |
| Voltage (V) | 12 V AC/DC |
| Dimmable | yes |
| Instant-on | yes |
| Power Factor | 0.65 |
| Operating Frequency (Hz) | 50-60 |
| Current (mA) | |
| Geometric Data | |
| Length (mm) | 50.0 |
| Outer diameter (mm) | |
| Inner diameter (mm) | |
| Width (mm) | |
| Height (mm) | |
| Diameter (mm) | 48.5 |
| Weight (g) | 50 |
| A1 (Fixation) mm | |
| A2 (Fixation) mm | |
| | |
| --- | --- |
| Photometric Data | |
| Luminaire efficiency | |
| Luminous Flux (lm) | 275 lm |
| | |
| led- Luminous Flux 120° Cone | |
| CRI | 75 |
| CCT (K) | 4200 |
| Lumious intensity (cd) | 1100 |
| Beam Angle (°) | 30 |
| Luminous Efficacy (lm/W) | |
| Lifetime (h) | 35,000 |
| Switching Cycle | |
| Lumen Maintenance Factor (LMMF) - given as a % | |
| Colour Consistency (+ / - K) | |
| Starting Time (milliseconds) | |
| Warm Up Time (milliseconds) | |
| UGR | |
| Energy efficiency parameter | |
| Energy Efficiency Class | |
| Mechanical Parameters | |
| Safety class | |
| Glow wire test | |
| | |
| Flammability | |
| Housing material | |
| Housing colour | |
| Protection class | |
Product Summary
---
The MR16 range has been developed to replace 20W, 35W & 50W equivalent MR16 halogen lamps. They are designed for MR16 applications with the same profile as halogen MR16 and deliver excellent lighting performance. Verbatim LED MR16s are perfect substitutes for halogen MR16s and are available in multiple beam angles and colour temperature options to provide the desired atmosphere.
Dimmability depends on transformer/dimmer combination. Electronic transformers have a minimum load requirement.
Application
Ideal for spotlighting and general lighting in public areas such as restaurants, reception areas, corridors, lobbies, conference rooms and other areas where light is on for long periods.