CompactFlash 8GB*
This product is no longer available
Product Summary
---
Capacity: 8GB
Write Speed: 3.5MB/Sec
Read Speed: 6.5MB/Sec


Product Number: 44040
*GB = 1 billion bytes. Capacity available for storage will be less; device uses up to 10% of memory for formatting and other functions. See
www.verbatim.com/flashcapacity
.
Verbatim MDISC Compatibility Chart
CompactFlash 8GB*
This product is no longer available
Product Number: 44040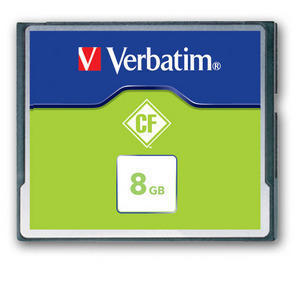 Product Summary
---
Capacity: 8GB
Write Speed: 3.5MB/Sec
Read Speed: 6.5MB/Sec


Product Number: 44040
*GB = 1 billion bytes. Capacity available for storage will be less; device uses up to 10% of memory for formatting and other functions. See
www.verbatim.com/flashcapacity
.