Folio Pro with Bluetooth® keyboard for iPad & iPad 2 - English keyboard
This product is no longer available
Product Number: 98020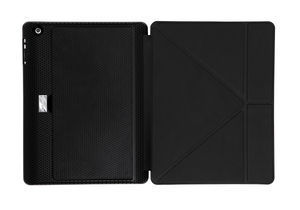 Product Information
Smart Stand - Unique protective cover folds to support the iPad in both landscape and portrait modes.
Rugged Design - Includes ventilated rugged case to hold iPad or iPad 2.
Removable Keyboard - Rechargeable Bluetooth® keyboard stores inside the rugged protective case.
Detachable Cover - The front cover can be detached to allow for use of the Apple Smart Cover™.
Non-removable scissor action keys including 14 dedicated shortcut keys for Apple iOS.
Verbatim 2 Year Limited Warranty.
Product Specifications
Product weight: 397 grams
Product dimensions: 245mm x 190mm x 21mm (H x W x D)
Keyboard recharge time via USB: 2.5 hours
Keyboard working hours per charge: approximately 100 hours

iPad Dimensions: 241.2mm x 185.7mm x 9.4mm (H x W x D)
iPad 2 Dimensions: 241.2mm x 185.7mm x 8.8mm (H x W x D)
Product Summary
---
The Folio Pro with keyboard for iPad & iPad 2 combines on-the-go protection with the convenience of an integrated keyboard. It also folds easily into a stand which offers both horizontal and vertical viewing positions.

The Folio Pro offers full body protection as well as easy access to all ports, buttons and camera functions. The ultra slim design makes it easy and lightweight to carry and increases mobility by storing the keyboard in the back, while the unique removable cover allows for use with the Apple Smart Cover™.


The rechargeable wireless Bluetooth® keyboard includes easy use smart keys, and soft-touch keys provide a crisp, responsive feel when typing. The keys feature a patented scissor action function, preventing them from being removed.

Product Number: 98020