Metal Executive USB 3.0 Drive 64GB*
Product Number: 99106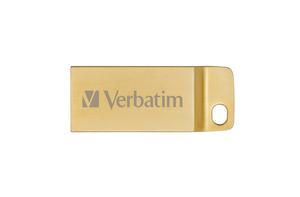 Product Information
Ultra small metal housing
Tough, waterproof & dustproof design
Up to 80MB/s read and 25MB/s write**
Includes a convenient metal key ring
Premium Gold edition
System Requirements
USB 3.0/ USB 2.0 port
Windows 10, 8, 7, Vista, XP
Mac OS X 10.4 or higher
Linux 2.4.0 or higher
Product Specifications
Weight: 3.6 grams approx
Dimensions: 29 x 15 x 5.5mm (LxWxH)
Read Speed: up to 80MB/Sec
Write Speed: up to 25MB/Sec
Interface: USB 3.0
Power Source: USB Bus
Pack Contents:
Metal Executive USB 3.0 Drive & metal key ring.
Product Summary
---
The Metal Executive USB 3.0 Drive has a small, sleek metal casing which makes it incredibly tough and able to withstand the demands of everyday life.

A USB 3.0 interface gives you a hi-speed data transfer of up to 80MB/s** allowing fast access to all your essential data whenever you need it.

**actual speeds are dependent on file size and system capabilities.


Product Number: 99106
*GB = 1 billion bytes. Capacity available for storage will be less; device uses up to 10% of memory for formatting and other functions. See
www.verbatim.com/flashcapacity
.