Quad Interface External Hard Drive 1TB. Formatted HFS+ for Mac OS.
This product is no longer available
Product Number: 47596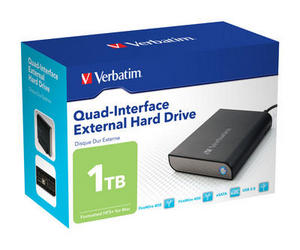 Product Information
FW800 / FW400 / eSATA / USB combination drive
Formatted HFS+ for Mac OS
Store thousands of photos. videos and MP3's
Free hotline support
Verbatim 2 Year Limited Warranty
System Requirements
Windows 2000, XP or Vista
Mac OS X 10.1 or higher
Available USB port or FireWire port or eSATA port.
Product Specifications
Cache: 16MB or higher
Drive: SATA high speed
External Power: 110 / 240 VAC Autoranging Power Supply
Interface: eSATA, USB 2.0, FW400, FW800 (x2)
Dimensions: 216mm x 150mm x 38mm
Weight: 1.6KG's
Pack Contents:
External Hard Drive
Stand
AC power cord
USB Cable
Firewire 6-pin to 6-pin cable (1394a)
FireWire 9-pin to 4-pin cable (1394b Bilingual)
FireWire 9-pin to 9-pin cable (1394b Beta)
eSATA cable
Quick Start Guide

Product Summary
---
When performance counts, Verbatim's Quad Interface External Hard Drive now offers a desktop drive with multiple interfaces including eSATA II, FireWire 800, FireWire 400 and USB 2.0. With high speed data transfer rates, the Quad Drive races through the most demanding applications allowing you to work more and wait less.

Each drive is constructed of a durable aluminium casing and silent cooling fan for heat dissipation.


Verbatim 2 Year Limited Warranty

The Quad Drive is formatted HFS+ for Mac OS.



Product Number: 47596